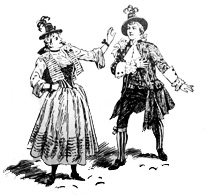 "Loudly let the trumpet bray!
Tantantara!
Proudly bang the sounding brasses!
Tzing! Boom!
As upon its lordly way
This unique procession passes,
Tantantara! Tzing! Boom!"
—The Chorus of Peers
Iolanthe
The Gilbert & Sullivan Very Light Opera Company's Production of
Iolanthe or The Peer and the Peri
March 6 to 15, 1981
Directors:
| | |
| --- | --- |
| Stage Director: | Jean Mickelson Black |
| Music Director: | James Hart |
Iolanthe was the sixth happy collaboration … seventh, if you count the lost Thespis … between William Gilbert and Arthur Sullivan. And, like its predecessors, it was an instant and resounding success. Gilbert's delightful mixture of fantasy, absurdity and politics (one could perhaps argue they are one and the same) when joined with Sullivan's equally adroit amalgam of Mendelssohnian gossamer (Midsummer Night's Dream) and his own rollicking musical idiom has kept the operetta forever green.
Two excellent internet resources for information about Iolanthe: