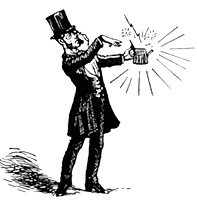 "Tripping hither, tripping thither,
nobody knows why or whither;
we must dance and we must sing
round about our fairy ring!"
—The Fairy Chorus
Iolanthe
The Gilbert & Sullivan Very Light Opera Company's Production of
Iolanthe or The Peer and the Peri
March 20 to April 12, 1992
Directors:
| | |
| --- | --- |
| Stage Director: | Lesley Hendrickson |
| Music Director: | Carolyn Davies |
| Artistic Director: | Wendy Evans |
Director's Notes
Iolanthe is not one of the best known of the Savoy operas, but is generally acknowledged as the favorite of Gilbert & Sullivan aficionados, and rightly so. It boasts one of Sullivan's most lushly tuneful scores, a compelling plot, delightful characters, and spot-on pacing that makes it a director's joy. Chorus singers give an especially strong vote to Iolanthe in gratitude for rewarding roles as the fairies and peers, who serve as protagonists in their own right.
Iolanthe is a particularly rich example of Gilbert's famed ― topsy-turvydom of misalliances and contradictions. Fairies trip the halls of Westminster while Peers in full regalia hike the countryside. Titled lords vie to marry a shepherdess while the Fairy Queen swoons for a grenadier guard. As legislators, the peers are proud to do ― nothing in particular (and do it very well!), while the ― dainty little fairies are keen for Parliamentary reform. Strephon, ― a fairy to the waist, but whose legs are mortal, is a mass of political and amatory complications. The Lord Chancellor may ― embody the law but admits his susceptibility to ― pretty young wards in Chancery and later reveals an even more deeply romantic side. Passions are quickly ignited, but can be just as quickly diverted. Lovers thwarted are reunited, and seemingly irreconcilable differences vanish with a pencil stroke — and, of course, a wave of the Fairy Queen's magic wand.
Lesley Hendrickson
Two excellent internet resources for information about Iolanthe: