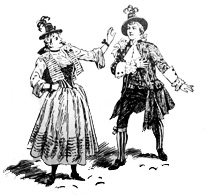 "Then let the throng
our joy advance,
with laughing song
and merry dance!"
—The Full Company
The Mikado
The Gilbert & Sullivan Very Light Opera Company's Fortieth Anniversary Production of
The Mikado
March 15 to April 7, 2019
Directors
| | |
| --- | --- |
| Stage Director: | Rick Shiomi |
| Music Director: | Dr. Randal A. Buikema |
Director's Notes
Welcome to our reimagined version of The Mikado which I actually call The New Mikado because it's my adaptation of the script. I've transported the setting to Edwardian England circa 1910, but the essential characters and storyline are the same (with some updating for more contemporary comedy and commentary). We have brought Gilbert and Sullivan back to their British home where cricket, field hockey, public houses and top hats abound, and where the young lovers, Franki-Poo and Tum Tum (because she makes our hearts go "tum tum, tum tum") wind their way through a thicket of other characters, like Coleman Coe (Co Co for short), Pooh Bah, His Majesty The King of England and the Lady Katherine Shaw (Katy Shaw).
Special thanks to Stephen Hage for inviting me on this journey and his support every step of the way, Randy Buikema for his wonderful music direction, Penny Freeh for her fabulous choreography, Martha B. Johnson for her directorial insight and assistance, and of course, to the great cast and design team that made this dream possible. We hope you enjoy our reimagining of this classic operetta.
Rick Shiomi

Anthony Rohr as Franki Poo,
Margaret Matejcek as Tum Tum and
Tyus Beeson as Co Co

Tyus Beeson as Co Co and
Lara Trujillo as Katy Shaw

Sarah Mehle as Patti Sing,
Margaret Matejcek as Tum Tum and
Blanka Melbostad as Bow Peep

Rick Shiomi discussed his staging of The Mikado with The Gilbert & Sullivan Very Light Opera Company in interviews with The StarTribune of the Twin Cities and the Twin Cities Arts Reader.
The Mikado Reviews
Lavender Magazine, by John Townsend
Play Off the Page, by Mary Aalgaard
Say Entirely, by Tierney Chlan
Cherry and Spoon, by Jill Schafer
Twin Cities Arts Reader, by Basil Considine
PhenoMNal Twin Cities, by Peter Kwong
Two excellent internet resources for information about The Mikado
Show Poster
Poster design by Tom McGregor and Mary Olson
Company Photo
"May all good fortune prosper you,
may you have health and riches too,
may you succeed in all you do!
Long life to you – till then!"
—The Full Company
The Mikado
Video