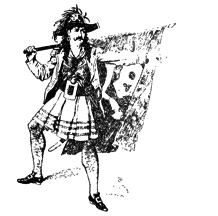 The Gilbert & Sullivan Very Light Opera Company Appearance at the Minnesota State Fair 2022
August 31, September 1 and 2, 2022
The Minnesota State Fair invited the Gilbert & Sullivan Very Light Opera Company, along with other Minnesota theater and musical organizations, to perform at the State Fair. The Company considered the invitation and decided that doing so would be an excellent opportunity to promote its upcoming fall production of The Pirates of Penzance, as well as its spring production of The Sorcerer. Waldyn Benbenek made all the necessary arrangements and several company members volunteered to participate as singers in the event.
The Company was asked to perform four fifteen-minute shows on three consecutive afternoons at a venue near the North Entrance to the State Fair. Members of the Minnesota State Fair organization served as "buskers" encouraging passersby to relax for a moment and to listen to the music. Those who did so enjoyed the lively music!
The pieces that were sung by the participants included songs from The Pirates of Penzance and The Sorcerer, but they also they sang songs from Patience, Iolanthe and The Gondoliers.
When asked to describe the experience the participants said that "It was very hot!" but also said that "It was fun!"
Participants
Waldyn Benbenek, Maggie Benham, Michael Burton, Alexander Gerchak, Deb Haas, Anna Maher, Wendy Matsutani, Blanka Melbostad, John Orbison, with a special guest appearance by Jim Ahrens
Accompanist
Jean Orbison Van Heel
Event Coordination
Waldyn Benbenek