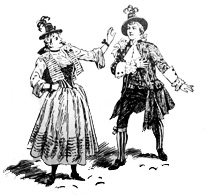 "Though everywhere
true love I see
a-coming to all,
but not to me,
I cannot tell what
this love may be!
For I am blithe
and I am gay,
while they sit sighing
night and day.
Think of the gulf
'twixt them and me,
'Fal la la la!' and 'Miserie'!"
—Patience
Patience
The Gilbert & Sullivan Very Light Opera Company's Production of
Patience, or Bunthorne's Bride
March 9 to April 1, 2012
Directors
Director's Notes
Patience is a satire on the Aesthetic movement. But it's really a satire on what happens when people adopt a philosophy or belief that is born solely out of emotion and is devoid of independent critical thought. I hope I don't offend when I suggest that the world today is not terribly far removed from our Aesthetic Ladies in that one has to look no further than our current political scene to see some obvious parallels. I think I'll stop there without pointing out any of the more obvious examples.
But that has to be said in order to justify my belief that Gilbert & Sullivan are as relevant today as they were in the 1800's. While they choose to satirize almost exclusively with humor and rarely with outright provocation, their masterpieces (of which Patience is absolutely one of their greatest) remain models of social commentary and of the human condition. There is a reason these works are produced over and over again. Great art stands the test of time.
My thanks to a magnificent and dedicated cast, crew, orchestra, design team and Music Director. And my thanks, most of all, to the Gilbert & Sullivan Very Light Opera Company for keeping this particular art form alive and well in the Twin Cities.
Robert Neu
Peter Middlecamp as Archibald Grosvenor,
Sarah Wind Richens as Patience and
Michael Burton as Reginald Bunthorne
Two excellent internet resources for information about Patience:
Show Poster
Poster design by Tom McGregor and Mary Olson
Poster Illustration: The Bower Meadow, Dante Gabriel Rossetti, 1871-72
Company Photo
Photography by Daniels Studio
"Well, it seems to me
to be nonsense."
"Nonsense, yes, perhaps,
but oh, what precious nonsense!"
—Patience and Lady Saphir
Patience
Video