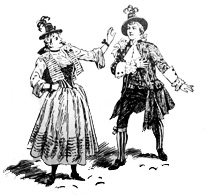 "Gaily tripping, lightly skipping,
flock the maidens to the shipping.
Flags and guns and pennants dipping!
All the ladies love the shipping.
Sailors sprightly, always rightly
welcome ladies so politely.
Ladies who can smile so brightly,
sailors welcome most politely."
—The Sailor and Ladies' Chorus
H.M.S. Pinafore
The Gilbert & Sullivan Very Light Opera Company's Tenth Anniversary Production of
H.M.S. Pinafore, or The Lass That Loved a Sailor
April 7 to 23, 1989
Directors:
| | |
| --- | --- |
| Stage Director: | Donna Carroll |
| Music Director: | Carolyn Davies |
| Artistic Director: | Wendy Evans |
Director's Notes
H.M.S. Pinafore is one of the most popular and extensively performed of all the Savoy operas. It seems hard to believe that an unusually sweltering heat wave, which kept patrons away from the theaters, almost stifled Pinafore completely, after its opening in May 1878. But when Arthur Sullivan cleverly included a selection of the delightful Pinafore melodies at a concert he was conducting, he caught the Londoners' fancy and soon audiences were flocking in droves to the nautical opera.
Over the years, many great performers have added their own personal touches to the staging of Pinafore and so the show comes dowered with a wealth of theatrical tradition. With grateful acknowledgement to productions before us, we have included many of these traditions as well as some decidedly new twists that we offer as our own contributions.
As a warning to the unwary, I must tell you that one of the traditions we have "borrowed" is the addition of an encore verse to the bright Bell Trio in Act II ("Never Mind the Why and Wherefore"). This tradition is the product of Martyn Green, who charmed his fans by humorously playing a different bell with each repetition, ranging from the triangle to the try-your-strength circus bell. Of course, such antics do not exactly advance the plot, but after all, this is (to quote Gilbert) "… not Italian opera, but only a low burlesque of the worst possible kind." At any rate, audiences adored Green, calling him back as many as seven times. While our staging is somewhat different, we hope you will be entertained enough to indulge us in our one encore (we promise, only one). Enough said, enjoy the show!
Donna Carroll
The Gilbert & Sullivan Very Light Opera Company recognized its
Tenth Anniversary with a celebration following the performance
on April 13, 1989. This event included an on-stage presentation,
a drawing for prizes and refreshments in the lobby.
Tenth Anniversary Celebration flyer
Two excellent internet resources for information about H.M.S. Pinafore: