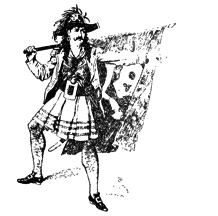 "Oh, better far to live and die,
under the brave black flag I fly,
than play a sanctimonious part,
with a pirate head and a pirate heart."
—The Pirate King
The Pirates of Penzance
The Gilbert & Sullivan Very Light Opera Company's Production of
The Pirates of Penzance, or the Slave of Duty
November 4 to 20, 2022
The Pirates of Penzance Program
The Pirates of Penzance 2022 Cast
Our production of The Pirates of Penzance was dedicated to the memory of company founder, Stage Director, Music Director, Set Designer and leading man Dick Fishel.
Directors
| | |
| --- | --- |
| Stage Director: | Gary Briggle |
| Music Director: | Dr. Randal A. Buikema |
Director's Notes
"A New and Original Melo-Dramatic Opera in Two Acts"
The First Night was New Year's Eve, 1879, at Ford's Fifth Avenue Theatre, 45 East 20th Street, in New York City. (There had been a hastily devised "premiere" the previous afternoon in Paignton, Devonshire, formed by a touring company of H.M.S. Pinafore) This extraordinary American premier was the first production by Richard D'Oyly Carte's new opera company, intended to secure the copyright, a firm legal response to the countless "pirated" productions of H.M.S. Pinafore all over the United States, which were not earning the triumvirate of G & S and D' C. any money.
Our production pays homage to that auspicious occasion by restoring the original second act finale, which includes a nod to Pinafore, a hymn to nobility, and a reprise of the Major-General's patter song. There are also a few subtle edits to the libretto and score in accordance with the traditions of the D'Oyly Carte Opera Company … as well as a couple of surprises to keep the aficionados on their toes!
Perhaps most significant in this production is the beautiful set, designed and painted by Wendy Waszut-Barrett, an internationally renowned expert in the lost art of "dry pigment techniques" from the 18th and 19th centuries. She masterfully created a "model theatre" like that which W.S. Gilbert used to envision his meticulous geometrical staging. Our set is complete with manually operated scenic panels, a roll drop, and luminous portraits of our beloved composer and author.
This rare opportunity to evoke the Fifth Avenue Theatre in all its 19th century glory inspired us to research the original costume designs, so you will undoubtedly be transported by the spectacle of fashionable young ladies in bustled dresses, bonnets and peignoirs, all "lace and dimity", dutiful men in their appropriately impressive uniforms, and rollicking pirates in swashbuckling style, with some surprising but authentic touches!
Finally, I want to call your attention to Sullivan's superb score, a masterpiece of elegant variety, even though the maestro forgot the first act In London and had to desperately reconstruct it from memory over many a sleepless night in his New York hotel room. Resurrecting a spritely chorus from the failed "Thespis" for the entrance of the ladies, and penning "Come, friends who ploughing the sea", the birth of our folk song "Hail, hail, the gang's all here!", Sir Arthur was never more delightful, nor Gilbert more cleverly inspiring to him.
As Sullivan wrote to his mother after that exhilarating, exhausting First Night: "The new year opens auspiciously for me." Indeed, it did. And how supremely fortunate we are that for the next seventeen years, and the creation of fourteen comic operas, he and Gilbert built a legacy that we continue to enjoy today!
Gary Briggle
Seth Tychon Steidl as Frederic and Anna Maher as Mabel
Waldyn Benbenek as The Pirate King and Seth Tychon Steidl as Frederic
Frederic's Articles of Indenture
The Pirates of Penzance Reviews
Stages of Minnesota, by Rob Dunkelberger
Cherry and Spoon, by Jill Schafer
Play Off the Page, by Mary Aalgaard
PhenoMNal Twin Cities, by Stephanie Kwong
Two excellent internet resources for information about The Pirates of Penzance:
Wikipedia – The Pirates of Penzance
Show Poster
Poster design by Tom McGregor and Mary Olson
Company Photo
"Poor wandering ones!
If such poor love as ours,
can help you find,
true peace of mind,
why, take it, it is yours!"
—The Full Company
The Pirates of Penzance
Video