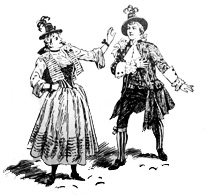 "In sailing o'er life's ocean wide,
no doubt the heart should be your guide;
but it is awkward when you find
a heart that does not know its mind!"
—Robin, Richard and Rose
Ruddigore
The Gilbert & Sullivan Very Light Opera Company's Production of
Ruddigore or The Witch's Curse
March 24 to April 9, 1995
Directors:
| | |
| --- | --- |
| Director: | Barry Hamill |
| Music Director: | Carolyn Davies |
| Artistic Director: | Wendy Evans |
Director's Note
When this operetta opened at the Savoy Theatre on January 22, 1887, it was called Ruddygore. However, "ruddy" was apparently too close to "bloody" for Victorian tastes, and Gilbert and Sullivan were convinced to use a less offensive spelling. It was probably a better world that could be offended by such a mild expletive.
The rewrites did not end with the title. The unfamiliar sound of hisses and boos in the midst of the opening night cheers persuaded Gilbert and Sullivan that their latest work needed extensive revision. They quickly cut substantial portions of the second act and within days their reworked Ruddigore was on the boards at the Savoy.
Out of such feverish play-doctoring, however, has grown the legend of "Gilbert and Sullivan's big flop." Ruddigore came to be thought of as a lesser effort, a mistake, a lapse in taste, a failure.
We at the Gilbert & Sullivan Very Light Opera Company think this is nonsense, of course. Ruddigore features some of Sullivan's best music, and the parody of melodrama concocted by Gilbert sparkles with wit. By the time the curtain comes down, we think you'll see why the original production played 288 performances and promoted Gilbert to remark, "I could do with few more such failures."
Barry Hamill
Two excellent internet resources for information about Ruddigore:
Show Poster
Company Photo
Photography by Daniels Studio
"When I'm a bad Bart. I will tell taradiddles!"
"He'll tell taradiddles when he's a bad Bart."
"I'll play a bad part on the falsest of fiddles."
"On very false fiddles he'll play a bad part!"
"But until that takes place I must be conscientious."
"He'll be conscientious until that takes place."
"Then adieu with good grace to my morals sententious!"
"To morals sententious adieu with good grace!"
—Robin and the Chorus
Ruddigore