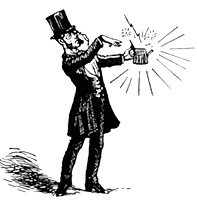 The Da Vinci Coda
September 10, 2007
The Gilbert & Sullivan Very Light Opera Company began its summer concert presentations of the Gilbert and Sullivan operettas, with the Minneapolis Pops Orchestra, in 1995. It soon became a regularly scheduled, annual event.
In 2003, however, the Minneapolis Pops Orchestra Board decided that these concerts should only be done every other year. Despite the huge crowds that always attended the concerts, some members of the Board felt that the audiences weren't interested in hearing so much Gilbert and Sullivan! As a result, the joint concerts were not held in 2005 or 2007.
The Company regretted the decision, but eventually decided to take advantage of the "free time" to do something else. In the summer of 2007, long-time company member Dean Laurance suggested that the Company put on, for themselves, a performance of a Gilbert and Sullivan parody that he'd discovered, called The Da Vinci Coda, written by the Lamplighters Music Theatre of San Francisco. The suggestion was championed by Lesley Hendrickson, another company member and a regular Director for the Company's productions, who assigned roles, scheduled some light rehearsals and otherwise organized the event.
On July 24, 2007, company members gathered in a conference room in Orion Associates' Golden Valley office and, in a party-like atmosphere, performed The Da Vinci Coda for each other.
Everyone enjoyed the performance so much that the participants decided that they should to do it again … with a bit more rehearsal, with some "bare bones" sets and costuming, with a few more cast members, on Howard Conn Fine Arts Center stage and before an invited audience. The Company did so on September 10, 2007 and the performance was thoroughly enjoyed by all.
It is likely that events like this would have been repeated in the future. As it turned out, however, the Minneapolis Pops Orchestra Board set aside its decision and The Gilbert & Sullivan Very Light Opera Company returned to performing with the Minneapolis Pops Orchestra every summer in the years that followed.