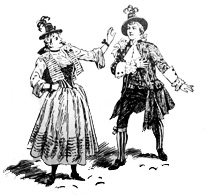 "With heart and with voice
let us welcome this
mating; leave them here to
rejoice, with true love
palpitating, Alexis the
brave, and the lovely
Aline!"
—The Full Company
The Sorcerer
The Gilbert & Sullivan Very Light Opera Company's Production of
The Sorcerer
March 10 to April 2, 2023
Our production of The Sorcerer was dedicated to the memory of long-time company member, tenor Mark Alt.
Directors
| | |
| --- | --- |
| Stage Director: | Gary Briggle |
| Music Director: | Dr. Randal A. Buikema |
Director's Notes
"If it is a great success it is another nail in the coffin of Opera Bouffe from the French." ~ Letter from Sullivan to a friend
Following the triumphant success of Trial By Jury in 1875, the brilliant impresario Richard D'Oyly Carte was determined to keep Gilbert and Sullivan together, to establish an English school of light opera to rival the French opera comique style of Jacques Offenbach. Having been informed by Gilbert that there would need to be payment in advance before any new operas were written, he recruited a short list of backers and set up the Comedy Opera Company in 1876. Carte now had the money to tempt Gilbert and Sullivan into further collaborations. For their first joint full-length work, Gilbert resurrected the basic plot from a story he'd written, "An Elixir of Love." The comic and dramatic possibilities of a plot based on the use of a love potion had an extraordinary appeal to Gilbert. The theme is found in one of his Bab Ballads, and in his first play, Dulcamara, which was a burlesque of Donizetti's famous opera, L'Elisir d'Amore. In later years, he was constantly trying to interest Sullivan in setting a story about a magic lozenge, but in vain. Love potions and their often-unexpected effects have, of course, been a favorite theme of operatic librettists and composers. They figure prominently in Auber's Le Philtre and Wagner's Tristan und Isolde. The Sorcerer provided Sullivan with some splendid opportunities to parody operatic tradition, particularly Wells' "Incantation," a satire on the famous "Wolf's Glen" scene in Weber's opera Der Freischutz. The Sorcerer opened on November 17, 1877, at the Opera Comique Theatre, and ran for a modest 178 performances. At the premiere, it had no overture, but one was written for the 1884 revival, when substantial changes were made to the beginning of Act Two. Although "damned with faint praise" at its premiere, Sir Arthur Sullivan's music is delightful throughout, and guaranteed to weave a magic spell over all who hear it, if not actually to make them fall instantly in love with their next-door neighbors. ~ adapted from The Annotated Gilbert & Sullivan by Ian Bradley, and The First Night Gilbert & Sullivan by Reginald Allen
Gary Briggle
Sifryn Oberon as John Wellington Wells, the Sorcerer
Maggie Benham as Aline, Seth Tychon Steidl as Alexis, and Anna Maher as Aline
Lara Trujillo as Lady Sangazure and Waldyn Benbenek as Sir Marmaduke
Gilbert & Sullivan's The Sorcerer: Behind the Curtain Interviews
The Sorcerer Reviews
Play Off the Page, by Mary Aalgaard
Stages of Minnesota, by Rob Dunkelberger
Two excellent internet resources for information about The Sorcerer:
Show Poster
Poster design by Tom McGregor and Mary Olson
Company Photo
Oh joy! oh joy!
The charm works well,
and all are now united.
The blind young boy
obeys the spell,
their troth they all have plighted!
—Alexis and Aline
The Sorcerer