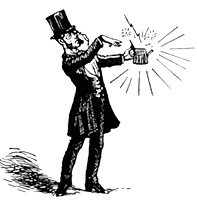 The Pirates of Penzance
The Gilbert & Sullivan Very Light Opera Company is pleased to announce that it will present The Pirates of Penzance, for four weekends, from March 18th through April 10th of 2011.
The performances will be at the Howard Conn Fine Arts Center, at Plymouth Congregational Church, located at 1900 Nicollet Avenue South, in Minneapolis.
This production of The Pirates of Penzance will be directed by Lesley Hendrickson, with music direction by Marina Liadova.
If you would like to be notified about when to order tickets, we invite you to add your name to our mailing list.  This way, we will know how to contact of you!  We never sell our mailing list to other parties.
One of Gilbert and Sullivan's most popular operettas, The Pirates of Penzance tells the story of Frederic, who was, as a child, apprenticed to a band of tenderhearted, orphaned pirates by his nurse who, being hard of hearing, had mistaken her master's instructions to apprentice the boy to a pilot.  Frederic, upon completing his 21st year, rejoices that he has fulfilled his indentures and is now free to return to respectable society.  But it turns out that he was born on February 29 in leap year, and he remains apprenticed to the pirates until his 21st birthday.  By the end of the opera, the pirates, a Major General who knows nothing of military strategy, his large family of beautiful, but unwed daughters, and the timid constabulary all contribute to a cacophony that can be silenced only by Queen Victoria's name.