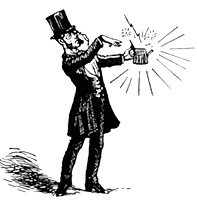 Ruddigore and More: A Very Light Cabaret! 2020
February 2020
The Gilbert & Sullivan Very Light Opera Company presents "Ruddigore and More: A Very Light Cabaret", featuring selections from our upcoming production of Ruddigore and next year's production of The Sorcerer.
The cabaret will be performed by cast members from the upcoming production of Ruddigore.
As its Leap Year weekend, we'll also be celebrating Frederic, the Pirate Apprentice's forty-first birthday!
Admission is free! We invite you to make a donation at the door.
Join us for the fun! Your being there really does matter, matter, matter … !
When:
Saturday, February 29th, at 7:30 pm
Sunday, March 1st, at 7:30 pm
Where: Honey, Northeast Minneapolis
Cast:
Joe Allen
Wally Benbenek
Jeff Erickson
Alexander Gerchak
Danielle Long
Adam Lowe
Anna Maher
Blanka Melbostad
John Orbison
Anthony Rohr
Seth Tychon Steidl
Lara Trujillo
Cassie Utt
Accompanists:
Emily Urban, Saturday, and Jean Van Heel, Sunday
Presenter:
Stephen Hage